SEND WISHES ON THE GO WITH THE BLUE MOUNTAIN ECARDS APP!
This fun and engaging greeting cards app lets you quickly search from over 1,000 Blue Mountain ecards, all from your favorite device. Personalize to create the perfect greetings — wherever, whenever and to whomever you like! Download the Blue Mountain ecards app for FREE. If you're a Blue Mountain member, you get ALL the best features of the app included with your annual subscription!
HOW TO SEND FREE AND PREMIUM ECARDS FROM THE APP
With the Blue Mountain app, you'll find our most popular ecards and benefits in a playful, new mobile experience.Blue Mountain members can send unlimited ecards within the app (no extra purchase required)! To start sending customized ecards in minutes, enter your login credentials after downloading the free app on your phone or tablet. Not yet a member? Join today!
See how fun it is to celebrate with us! Creating virtual cards in one of the best ecard apps available is as simple as it is seamless. In a few easy steps, you'll have an awesome greeting card ready for someone amazing.
Step 1: Choose the Perfect Ecard
Find an ecard for any type of occasion, including birthdays, anniversaries, graduations or holidays.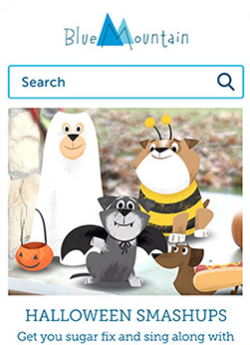 Step 2: Add a Digital Gift Card
Pick a digital gift card from one of their favorite retailers or restaurants and attach it to the ecard.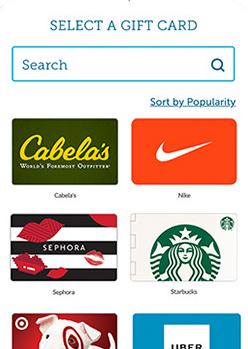 Step 3: Personalize Your Greeting
Customize any ecard with a special message or signature.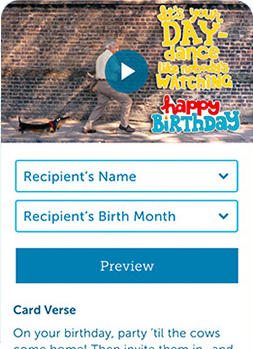 Step 4: Share it with Friends or Family
Send your ecard via email, text or social media in minutes or schedule it in advance.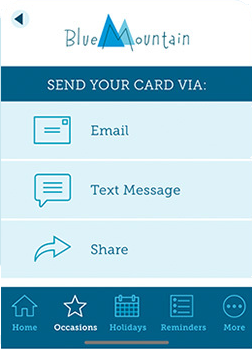 NEVER MISS A SPECIAL OCCASION
Wish you could be there for every celebration? Get the Blue Mountain app today and share ecard fun with everyone! Browse more than 1000 ecards for birthdays, thank yous and important holidays like Christmas, Valentine's Day and Mother's Day. Animated, musical or personalized — you'll find extraordinary greetings for the important people in your life. This user-friendly ecard app is free to download and gives members unlimited access to digital cards all year long, so you can share or schedule the perfect wishes for every occasion on the calendar!