Blue Mountain Printable Cards Are Now Creatacard™!
Printables were our first greeting cards you could make and print from your home computer. We've taken that experience and improved upon it with Creatacard™, a new (and really cool) custom card maker for any device. Plus, we've added digital versions of popular paper greeting cards, for an even better selection. Customize and send unlimited cards with a Blue Mountain membership or free trial subscription!
Does Blue Mountain Still Offer Printable Cards?
Creatacard™ offers newer versions of our printable cards, with enhanced digital features and more ways to send by text, email, messaging app or social post. What's more, virtual sending now allows you to use your mobile phone or tablet, as well as your computer. Enjoy signing and sending your cards with seamless delivery to whomever, whenever and wherever they are. Postage optional!
How to Print Creatacards™
Printing Creatacards™ is as simple as it was before. After you've followed the steps and created an amazing virtual card, we'll guide you through the printing process. Adjust your printer settings, the card layout and more. Use the printable card maker as part of your Blue Mountain subscription and print unlimited, free greeting cards!
Printable Card Maker
Step 1
Select your favorite Creatacard™.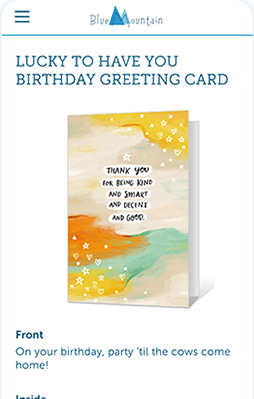 Step 2
Add personal touches like a photo, message and your signature.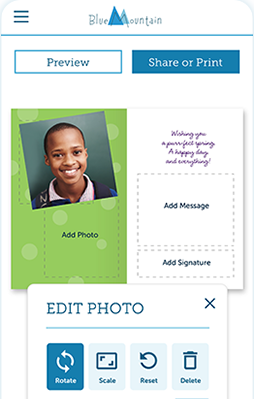 Step 3
Send your creation instantly and digitally by email, text, social post or your preferred messaging app.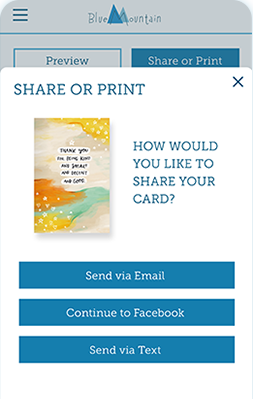 Step 4
Or print the finished piece at home from a laptop or desktop computer.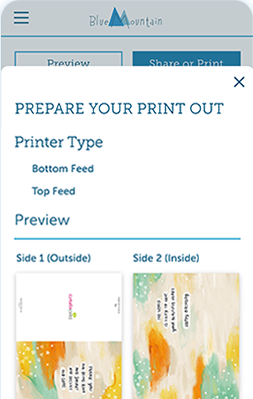 Printable Greeting Cards for Every Holiday and Occasion
Creatacard™ has a robust selection of free printable greeting cards, bringing you the variety of the card aisle to your fingertips, 24/7. Create exciting and truly unique cards for special holidays like Christmas and Valentine's Day, as well as birthdays, anniversaries, thank you and thinking of you.
No Printer? No Problem! Other Ways to Send Creatacard™
If you don't have a printer, you now have even more ways to send virtual cards. Deliver your Creatacard™ digitally and instantly via email, text, social post or your preferred messaging app. If sending by email, you can even schedule it to arrive on a special date.
Start a free trial today
First-time members can join Blue Mountain today, free for 7 days! Get started now to send cards to the ones who matter most!