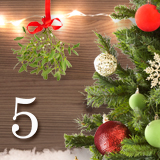 Joyful Christmas Traditions to Celebrate
Origins, Christmas Eve, and Christmas around the World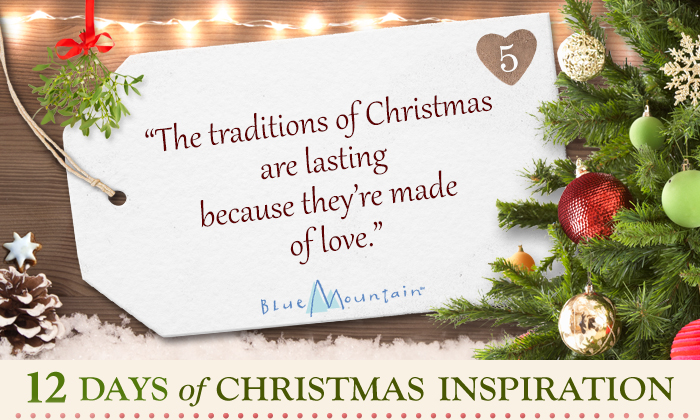 (Print, Post, or Share This Day's Inspirational Christmas Quote!)
The Origins of Christmas Traditions and Symbols
There are many ways we honor Christmas. One of them is through our family traditions. Each year many of us hang the same ornaments, eat the same foods, and entertain in the same way. It takes time and commitment to sustain these traditions, but we know they bring our families closer together. They reflect our values and what we believe in. They strengthen our sense of history and belonging, and like heirlooms, many are passed down through generations. From our traditions we receive the best gifts of the season-simple pleasures, mistletoe kiss, magical moments, happy memories and family joy
Some of our most cherished symbols of the holiday come from nature, which inspired our ancestors to incorporate them into their celebrations.
The History of Mistletoe
Folks have been kissing underneath the mistletoe since the 8th century. The custom has its roots in a Norse fable about Frigga, the goddess of beauty and love and her son, Baldur. Wanting to keep her son safe, she bade everyone and everything on earth to do him no harm. The one thing she overlooked was mistletoe. So Loki, a mischievous god, shot Baldur with an arrow made from mistletoe wood and killed him. Frigga's tears of grief turned into the mistletoe's white berries and brought him back to life. Filled with gratitude, she praised mistletoe as a symbol of love and peace and promised that forevermore, anyone who stood under it would be kissed. And so today, when two people meet underneath the mistletoe, it's likely they will get a Christmas smooch.
The History of Christmas Holly
During the holiday season, people all over the world deck the halls with boughs of holly. The prickly green plant and its red berries are a popular decoration that dates back to the ancient Druids. In addition to holly being a symbol of fertility and eternal life, the Druids thought it had magical powers. (Maybe that's why Harry Potter's wand is made of holly wood.) They believed it could ward off evil spirits and ill fortune. As time went on, Christians adapted the thorny foiliage with its blood-red berries as part of their own tradition, as expressed in the well-known carol, "The Holly and the Ivy." In Victorian times, it became a popular decorative image for illustrations and greeting cards. Today we use holly in wreaths and garlands and arrangements-- anywhere we want to add a rich and colorful touch.

The History of Evergreens
Evergreen trees were used as decorative symbols of eternal life by ancient Egyptians, Chinese, and Hebrews and used in Winter Solstice celebrations. In medieval Germany, fir trees were used to represent the Paradise Tree in the Garden of Eden in plays about Adam and Eve. The trees were decorated with apples and later with wafers to symbolize the host. In 1841, German-born Prince Albert, husband to Queen Victoria, introduced to London a decorated Christmas tree, reminiscent of his childhood. Its popularity quickly grew and soon many homes in Britain had trees bedecked with candles, sweets and handmade decorations. Not long after this, the custom spread to America. As early as 1444, evergreen wreaths were used as decorations in London. Branches were intertwined in a circular shape to represent God's love, which has no beginning and no end. Today we festoon doors and windows and mantles with wreaths to create a warm and festive welcome. The fresh scent alone conjures up happy memories of Christmases past.
The History of the Christmas Poinsettia
Poinsettias are called the "Flower of the Holy Night (Flores de Noche Buena) because their red bracts are said to represent the Star of Bethlehem–the heavenly body that led the Three Wise Men to the place where Christ was born. Because it can be found naturally growing only for a short period of time during Advent season in Mexico and Central America, seventeenth-century Franciscan priests in Mexico used the plant as part of their Nativity celebration. Worshipers placed the flowers around a manger built at the church altar. The plant was introduced to America by Mexican ambassador, Dr. Joel Poinsett in 1828, who cultivated it in his greenhouses. It rapidly became the most popular Christmas floral and represents 88% of Christmas plant sales today. Poinsettias can be seen everywhere during the holidays, in homes, churches, offices and shops, brightening fireplaces, surrounding Christmas trees and often given as hostess gifts.

A Christmas Garden Poem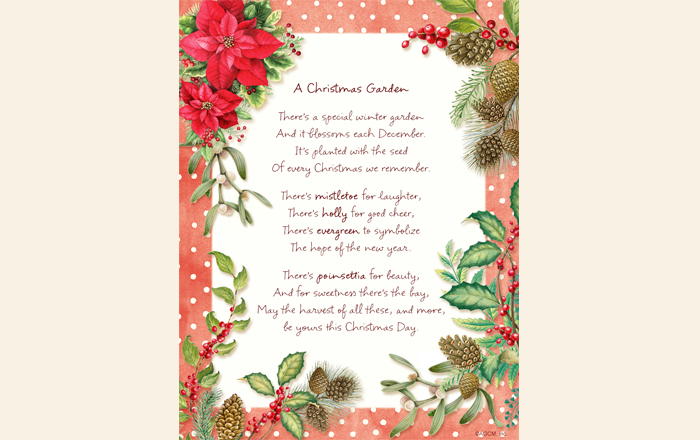 (Print, Post, or Share This Day's Inspirational Christmas Quote!)

Timeless Christmas Eve Traditions to Cherish with Your Family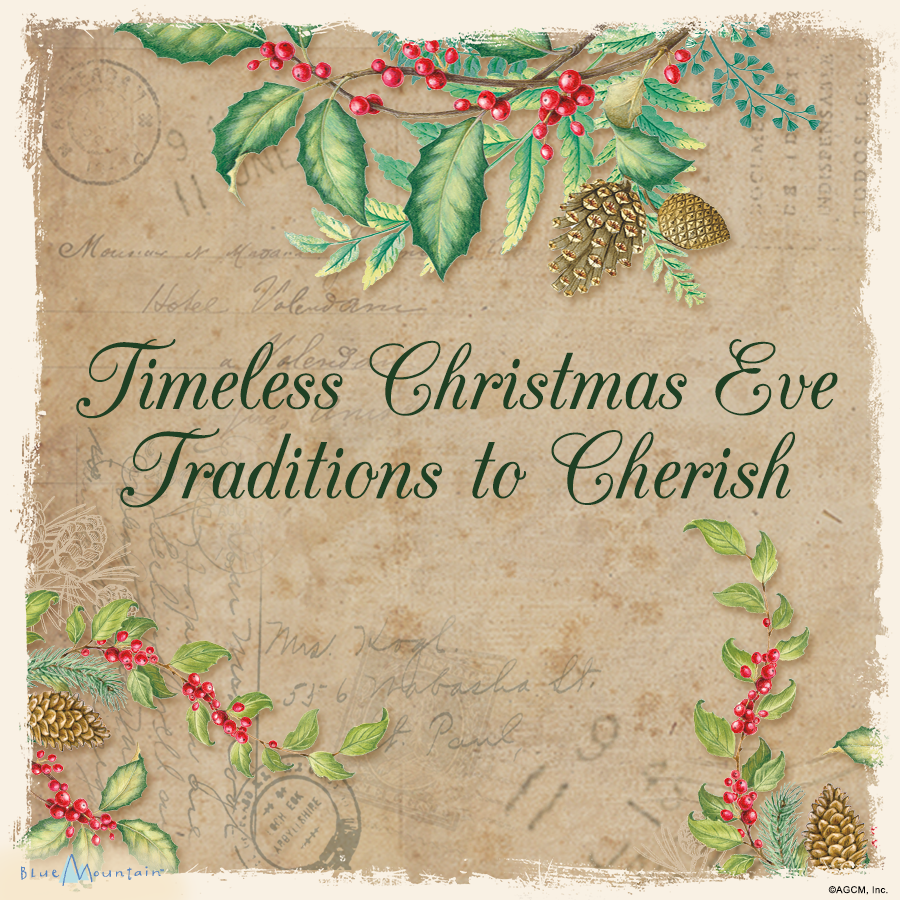 It's always special when you celebrate the Christmas season--and especially Christmas Eve--with your own mix of old and new traditions. These may vary from home to home, and culture to culture, but most have significant meanings that have survived through the ages. The traditional red and green colors of Christmas actually stem from the mythical properties of Christmas foliage.
Holly Wreaths
For instance, the holly bush was thought to be the one that was never consumed by fire as God talked to Moses on the top of Mt. Sinai. The holly wreath then is thought to invite God's spirit--and especially the spirit of Baby Jesus--into our homes. That's why it's became so important in some cultures to hang a holly wreath on Christmas Eve.
Christmas Trees
Bringing a beautiful lush evergreen tree into the home, and with it, good fortune, was originally a German tradition. The custom eventually led to lighting the tree with candles on Christmas Eve. Adding a beautiful star to the top of the tree was a reminder of the star the wise men followed to bring gifts to the baby Jesus.
Yule Logs
The ancient Vikings taught us about the Christmas Eve yule log, which was thought to bring warmth and sustenance to the home all year, especially if the log was received from a neighbor or a friend. Today, that tradition has been updated to serving a Yule Log cake in the spirit of warmth and friendship. It is sometimes part of an elaborate Christmas Eve meal that families enjoy before going to traditional midnight services at church.
Poinsettias
The lush reds of poinsettias were introduced through Mexico and have become increasingly popular over the years. The star-shaped blooms represent the ancient star that lit the way for shepherds and kings in their journey to Bethlehem.
Creating New Christmas Traditions
Christmas Eve is a great time to start your own traditions as well. Perhaps you can combine versions of those from ancient cultures with your own. You can always create new ones like making a charitable donation or helping others in need, to making predictions for the coming year, to reading Christmas stories or watching a favorite Christmas movie before going to bed.
So whether your family opens gifts on Christmas Eve or you save them for "Santa" and Christmas morning, remember that the greatest gift of Christmas is the celebration of love. Gather your family and friends together, celebrate the traditions that are most important to you and share in all the joys of this happy and beautiful season.

Learn About the Different Countries that Celebrate Christmas
All the world reflects the wonder of the Christmas season. Though we may celebrate it in different ways and say "Merry Christmas" in different languages, Christmas is about hope for the world and each person in it, because each year we're reawakened to the endless possibilities of a world built on love.
Our modern Christmas is the result of hundreds of years of both secular and religious traditions from around the globe. As recently as the beginning of the 19th century, Christmas wasn't widely considered to be a holiday and was hardly celebrated anywhere. However, by the end of the century, in countless places all over the world, it had become the most important celebration of the year. Let's take a look at how some of our neighbors honor Christmas.

Christmas in Germany
Decorating evergreen trees had always been a part of the German winter solstice tradition. The first Christmas trees that were decorated and named after the Christian holiday, appeared at the beginning of the 17th century.
Celebrating the season today is a month-long event in Germany. Many families prepare for Weihnachten (Christmas) by celebrating Advent, which begins the 4th Sunday before Christmas Day. They light a candle on an Advent wreath each week and children open the doors in an Advent Calendar each day. December 6th is Nikolaustag, a day commemorating Saint Nicholas. On the eve of that day, children leave a shoe outside their door and if they've been good, the next morning small toys and treats appear in them.
The festivities culminate on Christmas Eve with the unveiling of the Christmas tree.
The traditional German Christmas dinner features roasted goose, duck or fish. Potato salad and frankfurters is also a popular meal on that day.
Christmas in England
Christmas as we know it today, was ushered in during Victoria's reign. Her German-born husband, Prince Albert, introduced the decorated tree to London, and soon the custom spread all over the world.
Like many countries, Nativity plays and carol singing are very popular in England. Caroling began in medieval times, when wandering musicians would travel about the countryside, hoping to receive food or money for their performance. Today carolers collect money for charity.
On Christmas Eve, going out to the pub and attending midnight church services are enjoyed by many families. The Christmas Feast usually takes place in early afternoon on Christmas Day. Traditional Christmas festivities feature tables laden with roast turkey, cranberries, parsnips, roast potatoes, stuffing, bacon and sausages, followed by a Christmas pudding.
Christmas in Mexico
In Mexico, the Christmas celebration begins on December 12th, with the Feast of La Guadalupana (the Virgin of Guadalupe, Mexico's patron saint), and ends on January 6th, with the Epiphany.
Las Posadas takes place for nine days of procession and parties during which the story of the Nativity is reenacted each day. At Noche Buena (Holy Night) or Christmas Eve, most families go to a late night mass called the Mass of the Rooster. The name was based on the tradition that the birth of Christ was announced by the crowing of a rooster.
After the church service, they head home for the traditional midnight feast with family and friends. Popular dishes include bacalao, revoltijo de romerita and suckling pig. Afterward, children play with sparklers, called "Luces de Belen"-Lights of Bethlehem." Gifts are usually opened at the stroke of midnight.
Christmas in Sweden
In Sweden, the Christmas season begins with St. Lucia Day, December 13th, one of the darkest days of the year. It is sometimes referred to as "little Yule." This Festival of Lights is celebrated throughout the country to symbolize the promise of the sun's return.
According to legend, Lucia was a young girl during the Middle Ages who was blinded for her Christian beliefs and later was canonized the patron saint of the blind. She is honored today by young girls dressed in white with red sashes, wearing a wreath of lighted candles in their hair, who take part in a procession, carrying rolls and cookies.
The main celebration and exchange of gifts takes place on Christmas Eve. On that day, it's estimated that 40 to 50% of the Swedish population will watch the Disney Donald Duck special, which has been a custom since 1959. Many Swedes attend the Midnight Mass on December 24th, or the early morning Christmas service.
The Christmas season ends on January 13th, "Tjugondag jul,"(St. Knut's Day) when the Christmas tree is taken down and all the leftover treats are eaten.
Christmas in Australia
Christmas in Australia falls in the summertime, and it's not unusual in some parts of the country for temperatures to reach 100 Farenheit. Schools and workplaces are often on summer break during this period, so the focus is on Christmas celebrations.
Traditional celebrations include family get-togethers, surfing, sailing, swimming and singing Christmas carols at the beach. A favorite Australian carol is "Six White Boomers," because Down Under, Santa's sleigh is pulled by kangaroos instead of reindeer. On Christmas Eve, children leave out biscuits and a glass of milk or bottle of beer for Santa.
On Christmas Day, many families attend church services and then gather for a lunch. While some still serve the traditional turkey and roast vegetables, many have turned to cold meats and salad, in deference to the hotter weather. Desserts include plum pudding and mince pie along with local favorites such as kiwifruit and pavlova, a meringue cake named for ballerina Anna Pavlova, a popular entertainer in Australia in the 1920's.
Christmas in Ethiopia
In Ethiopia, the Julian Calendar is still followed, so Christmas day is January 7th. The Christmas celebration is called Ganna in the Ethiopian Orthodox Church. Twelve days after Ganna, Ethiopians begin the three-day celebration of Timkat to commemorate the Baptism of Jesus.
Christmas is a much less commercialized event with the focus on family gatherings and spiritual events. People fast on Christmas Eve and very early on Christmas morning, attend church services wearing a white garment called a shamma and carry a candle in a solemn procession. The priests dress in turbans and carry embroidered fringed umbrellas.
Afterward, "wat" is served. It's a thick and spicy stew with meat, vegetables and eggs.
Later in the day, the boys and men will play Gena, a traditional hockey-like game. It is said that Gena is a game the shepherds were playing on the night that Jesus was born.
How to Say "Merry Christmas" Around the World
Australian: Merry Christmas
Cree: Mitho Makosi Kesikansi
Danish: Glaedelig Jul
Ethiopian: Melkm Ganna
Finnish: Hyvaa Joulua
French: Joyeux Noel
Gaelic: Nollaig Shona Dhuit
German: Frohliche Wehnachten
Greek Kala: Christouyenna
Hawaiian: Mele Kalikimaka
Hindi: Shub Naya Baras
Hungarian: Boldog Karacsonyt
Italian: Buon Natale
Japanese: Meri Kurisumasu
Korean: Sung Tan Chuk Ha
Polish: Boze Narodzenie
Portuguese: Boas Festas
Romanian: Sarbatori Fericite
Russian: Hristos Razdajetsja
Spanish: Feliz Navidad
Swedish: God Jul
Welsh: Nadolig Llawen


Back to Calendar