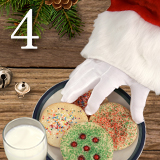 Christmas Activities for Kids
Riddles, Children's Books, and Letters to Santa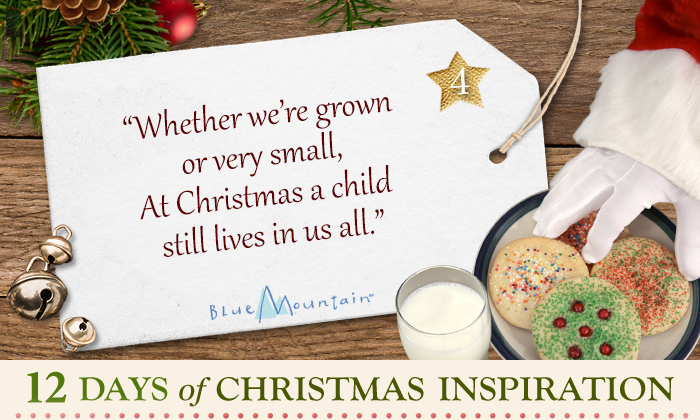 (Print, Post, or Share This Day's Inspirational Christmas Quote!)
Christmas Riddles to Play with Your Kids this Holiday
Winter weather and friends together, it's time for holiday fun! Do you have a house filled with kids? Your kids, neighbor kids, grandkids? Would you like to get them away from their electronic devices and reconnect with them? Here are some no tech, low overhead, fun activities and games you can play to promote togetherness and the spirit of the Christmas season.
Christmas Memory Game
Place Christmas items on a tray. Tell the children they have 30 seconds to memorize what's on there. Ask them to write down as many as they can remember in one minute.
Name That Christmas Tune
Play or sing the first lines of popular Christmas songs and see which child can come up with the name of it first.
Cookie Decorating
On a table, place large, plain sugar cookies and piping bags or squeeze bottles of colored icing. Provide sprinkles, candy pearls and other decorations. Give each child a plastic knife or wooden ice cream stick and let the fun begin! When they're finished, the kids can eat their creations, or wrap them and give them as gifts.
Write a Christmas Poem
Together with the children, make a list of things associated with Christmas, such as Christmas tree, star, reindeer, North Pole, etc. Then make a list of words that rhyme with them. Start linking the ideas, such as, "Once there was a Christmas star, that could be seen from near and far…" You're on your way to making a silly or sentimental Christmas poem that could become a fun gift or keepsake of the season.
Snowman Building
Provide some fun accessories for snowmen (and snow women), such as hats and scarves and buttons, and let the children's imaginations run wild. Prizes can be awarded for silliest, most original, or fastest built.
I Decorated the Tree
The first child begins with "I decorated the tree with a _____" The next player repeats what the first player says and adds their own: "I decorated the tree with a _____ and a _____. Each player repeats the sequence until a mistake is made. This game usually dissolves into giggles because of the funny things the children say they are placing on the tree.
Word Find
Make a list of Christmas words, such as Christmas, Santa Claus, Poinsettia, Candy Cane, and Mistletoe. Have each child make as many smaller words from it as possible before the timer runs out.
Some words found in Santa Claus include: us, act, ant, can, cat, sat, sun, tan, last.
How Many Ornaments
Ask the children to guess the total number of ornaments on the tree. The closest guess is the winner and receives an ornament as a prize.
Christmas Riddles
See who can guess the answers to these funny riddles.
(Print, Post, or Share This Fun Activity!)

The Perfect Children's Christmas Books to Read this Season
Here's a wonderful new holiday tradition you can begin with your family this year. As a countdown to Christmas, wrap a special Christmas book for each day and number it. You can begin at December 1st with 24 books, or at any time in between. On each designated day, your child can unwrap one book that you will read together. These will become cherished keepsakes to be passed down through the years, so be sure to date and inscribe them with a heartwarming message to your child.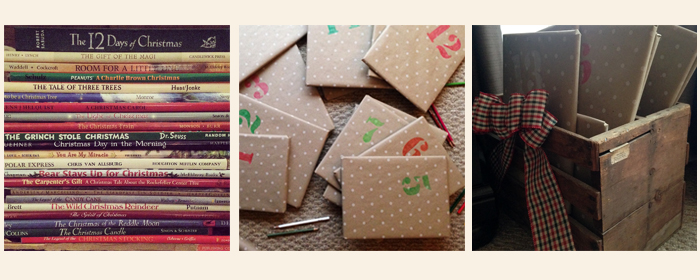 Reading to children and toddlers enhances many of their skills: basic speech, logical thinking, concentration, and their ability to acclimate to new experiences. And if all that wasn't enough reason, reading together builds and even stronger bond between you and your child.
To get you started, we've provided you with a list of 24 classic children's books and highlighted a few of our favorites. We've included the illustrators of the versions we think are especially charming. You can build your own collection over the years, or borrow them from your local library. So get cozy by the fire or under the covers and enjoy some good reading and bonding time with your family.
24 of our Favorite Children's Christmas Books (Printable Book List)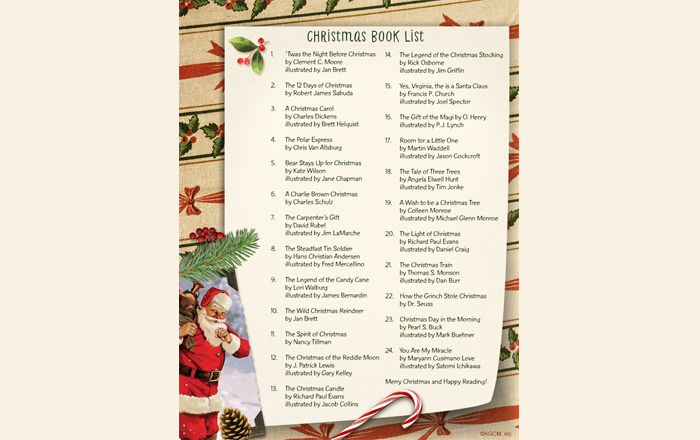 Click to open image in new window to print
'Twas the Night Before Christmas
by Clement C. Moore
illustrated by Jan Brett


While reading this classic poem aloud, it's fun for children to fill in the last word of the rhyming lines. The author's description of Santa has done more to form our image of Santa than any other work, and the beautiful illustrations of Jan Brett bring him to life.




The 12 Days of Christmas
by Robert James Sabuda


Award winning author and paper engineer, Robert James Sabuda, has created an amazing pop-up interpretation of the timeless song, "The Twelve Days of Christmas."




A Christmas Carol
by Charles Dickens
illustrated by Brett Helquist


Take a wonderful trip back to an unforgettable Christmas Eve in Victorian London where Ebeneezer Scrooge learns the valuable lessons of kindness, charity and goodwill.




The Polar Express
by Chris Van Allsburg


This 1986 Caldecott Medal Winner tells the story of a young boy's magical train trip to the North Pole to make his Christmas wish.




Bear Stays Up for Christmas
by Kate Wilson
illustrated by Jane Chapman


Bear's friends keep Bear awake for Christmas. Through the traditions of finding a tree, hanging stockings, and singing songs, he discovers that giving is the best Christmas present of all.




A Charlie Brown Christmas
by Charles Schulz


You can empathize with Charlie Brown as he laments the commercialization of Christmas. But in the end, the Peanuts gang will uncover the true meaning of Christmas and celebrate a Christmas miracle.




The Carpenter's Gift
by David Rubel
illustrated by Jim LaMarche




The Steadfast Tin Soldier
by Hans Christian Andersen
illustrated by Fred Mercellino




The Legend of the Candy Cane
by Lori Walburg
illustrated by James Bernardin




The Wild Christmas Reindeer
by Jan Brett




The Spirit of Christmas
by Nancy Tillman




The Christmas of the Reddle Moon
by J. Patrick Lewis
illustrated by Gary Kelley




The Christmas Candle
by Richard Paul Evans
illustrated by Jacob Collins




The Legend of the Christmas Stocking
by Rick Osborne
illustrated by Jim Griffin




Yes, Virginia, the is a Santa Claus
by Francis P. Church
illustrated by Joel Spector




The Gift of the Magi
by O. Henry
illustrated by P.J. Lynch




Room for a Little One
by Martin Waddell
illustrated by Jason Cockcroft




The Tale of Three Trees
by Angela Elwell Hunt
illustrated by Tim Jonke




A Wish to be a Christmas Tree
by Colleen Monroe
illustrated by Michael Glenn Monroe




The Light of Christmas
by Richard Paul Evans
illustrated by Daniel Craig




The Christmas Train
Thomas S. Monson
illustrated by Dan Burr




How the Grinch Stole Christmas
by Dr. Seuss




Christmas Day in the Morning
by Pearl S. Buck
illustrated by Mark Buehner




You Are My Miracle
by Maryann Cusimano Love
illustrated by Satomi Ichikawa
Merry Christmas and Happy Reading!

How to Write a Letter to Santa
Dear Santa…I can explain…
What could be more fun than helping your child write a letter to Santa? To create a new, memorable tradition, you can set the scene with some Christmas music and hot chocolate. You will find the perfect stationery for it here: http://www.bluemountain.com/stationery/santa-letters

Here are some ideas to get you started on your letter to Santa:
If your child is just learning to write, you can offer to be a helper elf.
Explain that it's always polite to inquire about the recipient.
For instance:
How is Santa feeling?
How is Mrs. Claus?
How is the weather at the North Pole?
Are the reindeer practicing their flying for the big trip?
What are the elves doing?
Has he been checking his naughty/nice list?
This would be a good point to tell your child why they are probably on the nice list. It's best to focus on the positive, and not turn Santa into a negative experience.
For example, your child
was kind to siblings.
tried new foods.
shared their toys.
showed good manners.
got good grades.
was nice to pets.
Now your child can list the things he or she would like for Christmas. (Since you will be fulfilling the list, it's a good time to ask for details.) Depending on your gifting plans, you can set a limit on the number of things requested, or you can let their imagination run wild, with the caveat that Santa may not be able to fit everything on his sleigh.
Be prepared with an answer if your child asks for something that doesn't come in a box. You can explain that making grandpa feel better or bringing mom home from a military assignment or finding a lost pet, isn't Santa's area.
Your child can add that he/she hopes that Santa will enjoy the milk and cookies and reindeer feed you're leaving out for them.
A good closing would include a "thank you" and a wish for a Merry Christmas! Add a stamp and some stickers and mail it to the North Pole.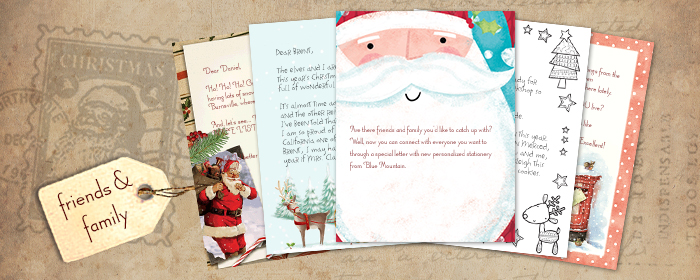 If you really want to surprise and delight your child, have Santa write a response. You can do this by typing your letter in an old-fashioned looking font on beautiful Blue Mountain stationery: http://www.bluemountain.com/stationery/santa-letters
You can answer the questions your child asked and acknowledge what was said about being naughty or nice. You can add that you're looking forward to landing at the house on Christmas Eve and having the milk and cookies. Ho ho ho! Think how fun and magical it will be when your child receives a personalized letter from Santa in the mail!


Back to Calendar